What is Weather4D Routing & Navigation?
Weather4D Routing & Navigation replaces Weather4D 2.0.  This iPhone and iPad marine application integrates weather forecasting, routing calculations and navigation with nautical charts published by official hydrographic services of 17 countries to maximize your boating experience from the navigation preparation all the way to reviewing recorded tracks after reaching your destination.
Navigation
With a wifi connection to a transponder, Weather4D Routing & Navigation instruments display information such as SOG, COG, TWS, AWS etc…, ETAs, ETWs, AIS data, in real time along with weather and routing information.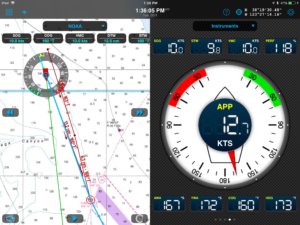 Between dusk and dawn, you can set the screen to night mode making it an ideal set of instruments during your watch.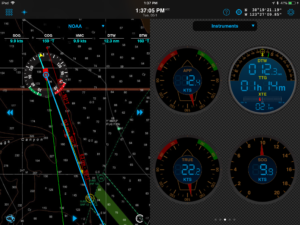 Alarms can be set to let you know about low precision GPS signal, excessive XTE, course deviations, surrounding boats, wind speed and low depth.
Weather
Over 35 weather and oceanographic forecast models are available. Queries and downloads are fully customizable.
The application makes it possible to create your own geographical zones and to select the characteristics of the GRIB files to download: choice of data, resolution, periodicity, file size, etc. GRIB files can be downloaded wherever you are from our servers through a regular or satellite internet connection.
Weather4D Routing & Navigation displays the combined data as layered layers. All the data of a selected model is displayed by an animation in continuous time scrolling or in manual scrolling on the map.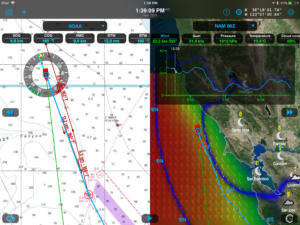 The weather forecast is displayed in one or two windows (iPad only), offering several display combinations of the same area: navigation and weather, weather and waves or currents, comparison of different models. The two windows can be disassociated for displaying the same area at different scales.
Routing
Weather4D Routing & Navigation makes it possible to optimize sailing or engine, or mixed sail-engine routes. From a theoretical route, a routing algorithm takes into account the boat polar (when sailing), wind and current forecast as well as wave height constraints to optimize performance, comfort and safety.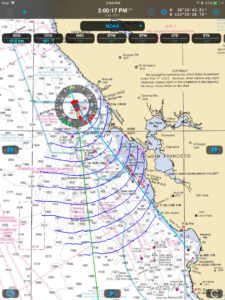 Several routes can be displayed to compare the outcome of different options: different forecast patterns, departure dates and times, selected constraint values. The routing can be restarted at any moment during navigation from the actual position of the boat.
Models and charts
Weather4D Routing comes standard with the GFS global forecast model at 0.25 °, 0.5 °, 1 ° and 2 ° resolutions. Two global satellite (BING) and global terrestrial (Open Street Map) charts.
Options
GRIB files
The high-resolution weather models NAM, COAMPS, WRF (USA), GEM (Canada), ARPEGE Global, ARPEGE Europe, AROME, AROME HD (France), AROME (DOM-TOM), as well as WW3 wave models and MERCATOR OCEAN currents, and MFWAM and NCOM current models are supplied in a single pack available by annual subscription (integrated purchase).
Nautical charts
The raster charts derived from original material provided by the International Hydrographic Services come from the Geogarage cartographic server, which offers a wide choice subscription service and keeps them updated at all times. Chart selection is done per editor.  Once the subscription is effective, charts are accessible within the application.
Currently available editors are:
NOAA RNCs (USA)
CHS (Canada)
WAVEYLINE (Bahamas)
DHNV (Venezuela)
DHN (Brazil)
SHN (Argentina)
LINZ (New Zealand)
SHOM (France / DOM-TOM / Polynesia + international)
UKHO (UK and dependencies + international)
BSH (Germany)
NLHO (Netherlands)
VLAMMSE (Belgium)
DGA (Denmark)
NHS (Norway)
ICG-HD (Iceland)
NLHO (Nederland)
NAVIMAP / IIM (Italy)
* Weather4D Routing & Navigation supports the watch Apple Watch by synchronizing the main data of navigation from an iPhone.